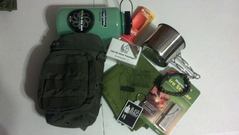 People often ask me to sell them "survival kits." I'm not a fan of the idea. Your survival requirements are far too personal and specific for a prefabricated kit. Invariably, something gets missed or left out, or, worse yet, the company selling the kit loads it with the cheapest junk they can get in an effort to maximize profits. It is my philosophy that you have to build your kit yourself. I can guide you, help you figure out your needs, but I'd be doing a disservice if I tried to do it for you. You need to have 100% confidence in every item in your kit. It isn't what you buy, it's what you learn, know, and do. There is no substitute.
But you guys want packages, and as the saying goes - the customer is always right.
Here's my plan: I'm going to start assembling product bundles. I'll put together packages of items that make sense and function well together, quality items I use myself, at a discounted price. These bundles will save you a few bucks, meet customer demand, and coincide with my philosophy that you have to build your kit yourself.
Here's the first of these combos: Dave asked for a small bundle to cover fire and water. Obviously, I want you to add to this, but here's a bundle to get you started. (There's two of these combos ready to ship.)
Combo includes:
H2O Pouch, MOLLE compatible, insulated, with a small outer pocket to hold everything together.
Nalgene Bottle, 32 oz, Glow-in-the-dark, wide mouth bottle can be used to protect the other items in the combo.
Light My Fire Spork, bright orange so it doesn't get lost, this is my favorite camp chow utensil.
Safe-Light PALight Survival flashlight, white LED, the best small light in an emergency. Check out the article
here
.
Stainless Steel Cup, nests with the bottle and can be used to boil water.
Magnesium Fire Starter, reliable fire starting capability.
Paracord Bracelet, convenient multi use cordage, can be disassembled to make a sling or fire bow/drill.
BBR Bandana,
has a million uses
, including pre-filter for your water.
BBR Keychain, because they're cool, and I know you want one.
Total value: $87
Black Bag Resources
Price: $75
What should you add? Start with Tincture of Iodine
, available at your local pharmacy, which can be used to treat wounds and treat (decontaminate) water the same way Iodine tabs would. A small "first aide" kit with some adhesive bandages and ointment is always handy. A small sample or travel sized bottle of
hand sanitizer
has multiple purposes. You can wrap some duck tape around the bottle or add a
flat pack
. A piece of tin foil can be used as a wind screen or a lid for the steel cup. A heavy duty zip seal bag can be used to catch or carry additional water and takes up very little space when empty. Make some fire starters from dryer lint or cotton balls and petroleum jelly. Finally, a piece of
hacksaw blade as explained here
.
And there's no reason to stop there. As I've stated earlier, you know best what you need. You might even add this combo to a larger kit.
ORDER HERE