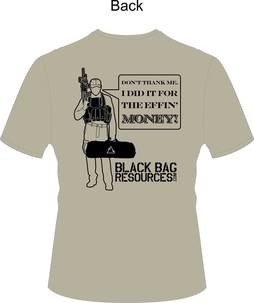 The new 2013 Black Bag Resources T-shirts have arrived! This year's tee is tan, 100% cotton, tagless, and awesome! The front features the small BBR logo on the left chest. The back features our operator with the quote, "
Don't thank me, I did it for the effin' MONEY
!" It's a play on the whole "Thank our Military" thing. Do you thanks PMCs, Contactors, Security Personnel, etc.? They go in harm's way for pay- often considerably more than our military- but, in truth, many of them are no less Patriots than our men and women in uniform. This shirt is our tongue-in-cheek salute to them.
ORDER HERE