They go by many names- Space Blanket, Survival Blanket, Emergency Blanket- but thermal reflective blankets all share one common feature: a metallic side designed to reflect heat back towards the body. I have used lots of these in various designs over the years and they will all improve your heat retention. They can be used in various ways: like a traditional blanket wrapped around your body, as part of a wilderness shelter to reflect your fire's heat back toward you, to cover the windows in your home during outages to prevent heat loss, etc. Where they vary is their size, weight, and durability which in turn determines how you use and utilize them. Here's my take on a few: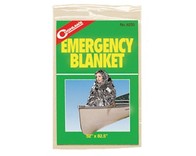 Generally referred to as a "space blanket", this is the most common and inexpensive example of a thermal blanket. You can find something similar in any outdoor store or the camping section in department stores for less than 2 or 3 dollars. The one in the photo is from Coghlan's but there are several manufacturers that make them and they are all pretty similar. They weigh only a few ounces, are packaged small, will absolutely work to reflect heat, and open to about 50" by 80", all of which makes them a popular choice for camping or emergency kits. However, there are two issues with this version that have lead me to choose something else for myself. The first is that these blankets are very delicate. They tear easily and even a small tear "runs" destroying the blanket quickly. The second is that they are nearly impossible to repack. Even with two people trying to fold it, these blankets are so light and hard to control that most people end up just wadding the thing up and shoving it into a pack or pocket- which in turn ends up tearing the blanket. The result is the blanket only lasts for one or two uses. I personally consider it an expendable/consumable item and treat them with about as much care as a disposable paper plate. Obviously, the small size and light weight are the trade-off to the fragile nature of the product. I no longer use this type myself, but you can decide if it is appropriate for your needs.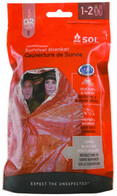 Survive Outdoors Longer is part of the Adventure Medical brand and they make several great products including their "Survival Blanket." The one pictured is the 1-2 person model and it is substantially stronger and larger (60" by 96") than the "cheap" emergency blanket above. SOL uses a "vacuum-metalized polyethylene" in the construction and the result is a plastic that stretches but does not easily tear. Punctures and tears that do occur don't "run" and can be patched with duck tape. The blanket is packaged in a reusable zip seal bag that is larger than the factory packed blanket- which means even if you can't perfectly re-fold the blanket it WILL fit it back into the package. The SOL Survival Blanket is a great option for those who don't want a full sized nor a cheapo disposable thermal blanket. While it's more than twice the size of the 2 dollar thermal blanket, the SOL offering is still pretty compact and only weighs about 3.5 ounces. For my purposes, this is the minimum standard for a thermal blanket and it is well worth the few additional dollars it costs. I choose the "two person" size for my outings because it is just slightly larger than the "one person" (56" by 84").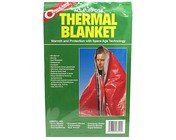 The "All Purpose Thermal Blanket" from Coghlan's is a pretty substantial product at a reasonable price. The blanket is packaged in a mesh bag with a velcro closure that can also be used for storage. I will admit that Coghlan's can be hit or miss as far as quality with some items, but this is one of their best products. It is far more heavy duty than others on the market and can be used repeatedly to build wilderness shelters or to improve the temperature rating of your sleeping bag. It has corner grommets and a mesh reinforcement throughout the thick material. It is made of a "softer" plastic material that is almost rubbery and allows it to be folded without developing cracks. It weighs in at nearly a full pound and measures 50" by 79" when open. It packs to about 8" by 11" and almost 2" thick, so it also takes up more room in a pack. Personally, I feel it is worth the size and weight because of it's strength. It doesn't need to be replaced often because it is so durable, and this is the one I bring on my outings.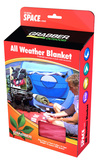 Grabber Outdoors also makes a great heavy duty "All Weather Blanket." When open, it measures 60" by 84" and weighs 12 ounces, so it is slightly larger and a bit lighter than the Coghlan's brand blanket. The Grabber blanket is also reinforced throughout, has corner grommets, and it has more of a tarp feel to it. Grabber uses a four layer process to manufacture their thermal blanket and the result is a great product that will survive for years of adventures. The only issue I've had with this model is that after 3 years it started to develop small holes where it was folded. I consider this minor and part of normal wear and tear.

Size and weight are always a big consideration when packing for an adventure, outing, operation, or emergency kit. While I prefer the costlier, bigger, and somewhat heavier thermal blankets because of their enhanced durability when compared to the inexpensive "space" blanket, ultimately you decide which thermal blanket is right for your needs.