This article is a submission from our friend, Tony Simon, regarding his experience taking NRA First Steps Rifle with Black Bag Resources, LLC.

"Denial" is not just a river in Egypt

I grew up shooting. I was on my high school's marksmanship team. I was trained to shoot by PMIs ( Primary Marksmanship Instructors) to be the finest basic trained marksman the Marine Corps could produce. My highest range score was sharpshooter, I missed Expert by one point. So when I got back into shooting I couldn't believe I had gotten so bad at putting rounds on target. At 50 yards I was all over a 31 x 19 inch target with my first 10 rounds while shooting off a bench. I ignored the fact the last time I shot at a range was 20 years ago. I also ignored every marksmanship principle. Gunny Hathcock I was not.

After my embarrassing first time out I was determined to improve. I knew that I had to apply the basic marksmanship principles, and I knew them backwards an forwards. I was a Marine after all, I won't need any help. (Denial) In my subsequent trips to the range my "groups" at 50 yards had shrunken to an entire 5 ½ inch Caldwell Bulls eye target. I knew that a Ruger 10/22 would shoot better than minute of dinner plate groups, but for the life of me I couldn't get the groups smaller. I started to justify my groupings as "good enough" for self defense or the zombie apocalypse. (More Denial!) During this time I was also firing my Finnish 1942 Mosin Nagant and the 50 yard "groups" would not shrink in size from the 12 inchers that I was shooting. Now comes the excuses, "It's a 70 year old rifle with 65 year old surplus ammo."and "If I installed a Timney trigger and a good optic I would be shooting tight groups." (Drowning in denial here!)

I have a friend (Sean from Black Bag Resources, LLC) that is a NRA marksmanship instructor and he put together a NRA First Steps Rifle class. I decided to take the class in July and get back to the basics of marksmanship, because nothing I did on my own was getting good results at the range. I finally had to admit that shooting is a perishable skill, and I needed to get back to the basics. It was time to come ashore and get out of the river of denial.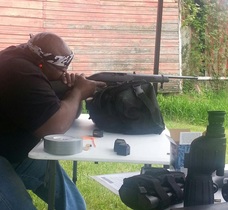 The class started with introductions and telling each other about our firearms experience. Then we went over the safety rules, parts of rifles, types of ammo and the five rifle shooting fundamentals. There was a lot of good information in the class and it covered the fundamentals of shooting safely and accurately. The NRA provides very informative books and handouts for the class.

Sean insisted on everyone being active in the class, and this class was not the "sit and listen" kind. There were no dumb questions- just missed opportunities to learn. We had hands on rifle manipulation with America's rifle, the Ruger 10/22. After going over shooting positions, we went over the safety rules again and then we headed to the range.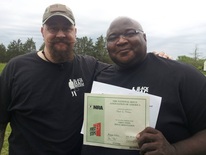 After completing the course required shooting, we were told we would be shooting from the bench for our NRA/Winchester Basic Practical Qualification.The qualification was to fire 5 three-shot groups into groups no larger than .9 inches from 33 feet. That's a group the size of a quarter! After watching Jill (the only female in class) put 2 rounds through 1 hole with a 10/22 with a Hogue stock and a BSA Sweet 22 scope, I abandoned my iron sighted stock Ruger 10/22 for the rifle she used. I will spare you the drama- I passed the qualification with the scoped rifle, but I had to know if I would've passed with iron sights. So I shot the qualification again with my stock rifle and passed it with that rifle also. I felt GREAT!

The 50 yard line: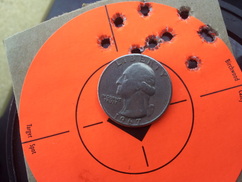 I went back to the range as soon as possible to test myself and my relearned skill set. The target was a 11x16 inch piece of cardboard nailed to a 2 ¼ x ¼ . My range sells targets stapled to these posts and since my groups were on the large size I was reusing these posts over and over. I placed two 5 ½ Caldwell targets vertically and 3 inch targets on each side.

I sat my rifle bag on the top of the bench and rested my rifle across the bag. I applied all of the lessons I learned in class and settled behind my stock, iron sight Ruger 10/22 and shot my first 10 shot group from 50 yards. I shot a 1 ¼ 10 shot group on a 3 inch target at 50 yards!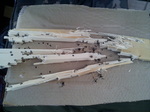 This was better than I have shot in recent memory, stock rifle, no shooting vice, no sling. I then proceeded to shoot the rest of my 100 rounds into multiple 10 shot groups. At the end of my time at the range I had cut the 2 ¼ inch post into splinters. Prior to the class, I couldn't do that with my .30 caliber rifle!
Conclusion

Shooting is a perishable skill. I needed a basic marksmanship class to get me back on track. I was drowning in a river of Denial, thinking that I could teach myself to improve my marksmanship on my own. I shot over 2000 rounds of ammo between my pistol and rifles trying to improve on my own. My money would have been better spent in a formal class that started with the fundamentals. After all, that is how the Marine Corps teaches it to recruits. Please don't be like me. Ammo is expensive and at times hard to come by. Don't let your ego stop you from taking NRA firearms courses. It is a standard course taught by NRA qualified instructors. I took mine from Sean Fisher at BlackBagResources.com. As far as I am concerned he is "The Greatest Firearms Instructor in the World" because I no longer shoot pizza box size groups- they are now a little bigger then a quarter!

Since taking the class, Tony has continued to improve his skills by applying and developing the fundamentals he learned in class. He spent weeks studying his manual and practicing his skills. Tony is now shooting competitively, going to the range regularly, and even completed his NRA certification as a Firearms Instructor. Tony currently assists teaching firearms courses with Black Bag Resources, LLC and has a facebook page at www.facebook.com/simonsaystrain dedicated to firearms and related education.