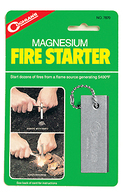 Somewhere in your gear or emergency kit is a magnesium fire starter. You know- the one that looks like a block on a keychain with a ferro striker in the side (
this is the one we sell from Coghlan's
). You learned how to use it years ago: scrape shavings of magnesium off the block and strike the ferro to ignite the shavings or other tinder. You were taught that you could use your knife as long as it was made from carbon steel and had a good sharp edge to strike with. The problem with using your knife as a striker is that it can be hard on the edge or you'd end up shaving too much material off the ferro insert- shortening the life span of the fire starter. Here's a cheap solution that turns the fire starter into a complete tool and saves your knife from unnecessary wear.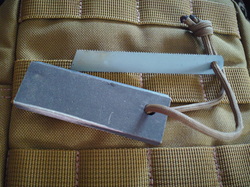 Fire starter and Hacksaw striker.
Pick up an inexpensive hacksaw blade for less than $3 and cut a 3-4 inch piece off the end. (I use a Dremel tool with a cut off wheel.) Attach that piece of hacksaw blade to your fire starter with an 8-12 inch piece of paracord. The serrated edge of the hacksaw striker does a good job at both shaving the magnesium and striking the ferro insert. The cheap little piece of hacksaw blade has the carbon content needed to generate a spark and stands in for your knife as the striker- taking one of your knife's chores off the list it has to perform. With some practice, you can short stroke the end of the ferro rod with the hacksaw stiker using just a little bit at a time.