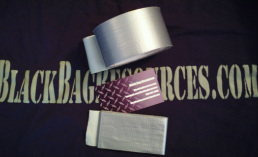 Tape + Card = Awesome!
We all know there's about a million uses for duck tape/duct tape/100 mph tape. No matter what you call it, it's one of those items that always proves handy. Just when you think you've got most of them figured out, somebody comes up with another trick. In this case, my buddy Tony showed me a way to make this essential tool more portable.
I've seen people who will wrap just about everything they carry with duck tape to make sure they have it on hand, but I've found that it can inhibit some items from being as useful as they should be. Tony's trick is to take a standard US business card and wrap it in duck tape. This gives you a convenient way to carry a flat pack of several feet without the bulk of a roll. It also means you can keep it handy without cocooning your other gear.