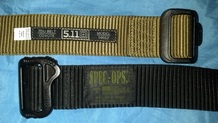 Although these products look very similar, there are some minor differences to consider when you make your purchase. Here's a quick look at some similarities between the 5.11 TDU belt and Spec-Ops Brand's Better BDU Belt: Both belts are fairly inexpensive, made from quality nylon, and feature "airport friendly" plastic hardware. Sizing is also similar between both products. Both belts feature a tri-glide type buckle for easy adjustment that doesn't require holes in the belt.
According to the tags, Spec-Ops makes the Better BDU Belt in the US, and the 5.11 TDU belt is manufactured in China. (Click on the photo to see for yourself.) The main difference I noticed is in the stiffness of the belt. The Spec-Ops Brand belt seems thicker and stiffer than the 5.11 which at first doesn't seem important. However, what I found when wearing the belt is that the stiffer Spec-Ops belt is easier to adjust because it binds in the buckle better, causing the belt to hold itself closed. The 5.11 belt also needs to be re-tightened more often throughout the day, even during casual activity. I wouldn't expect either of these belts to be quite stiff enough to support a holster during concealed carry, but the Spec-Ops belt is far less prone to rolling, again due to the stiffer nylon used.
I've worn the Spec-Ops brand belt for years and decided to try the 5.11 belt. In my opinion, accept no substitute: get the Spec-Ops belt.