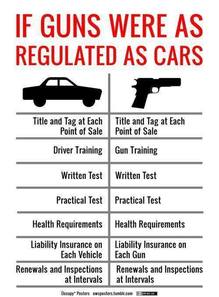 Even this out. I dare you.
OK guys, I have to go on another little rant here because this one has finally gotten on my last nerve: gun control advocates who suggest we treat guns more like cars and require licensing...
I have to respond to this concept because I hear it over and over from people who clearly have no idea what they are suggesting nor what already exists.
Let's start with what's already in place in NJ. To purchase a firearm in this state, you must first obtain a Firearms ID card from your local PD. There is a process involving an application, fingerprinting, and background checks by local, state, and federal law enforcement. In general it takes several weeks to several months to get your first time FID. So let's drop that nonsense, there's already a "license" as far as I'm concerned and it takes a heck of a lot of work to obtain it. There is currently no training requirement, but we'll come back to that. And what does the FID get you? The opportunity to purchase and possess firearms, but with limitations! You can't carry concealed and you can only transport your firearms to and from the range without deviation. So to compare, that's like saying it takes 6 months, 3 background checks, an instant check at time of purchase, fees, and fingerprinting just to BUY a car. And then you can only drive to and from work! Does that sound like a reasonable license to you? Would it make sense to say you can buy any car you want, but you have to keep it locked in your garage and it can only be transported to a designated driving course? We're not just talking about race cars either, that includes your Prius and SmartCars!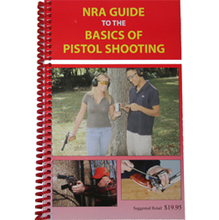 Far more interesting than the Driver's Handbook.
Well wait, what about training? You have to get educated before you can get your drivers license. Shouldn't we do the same for firearms? Brace yourselves. I agree. Yes. You should get training. Before you freak out thinking I've traded my flat top for a hippy headband, let me explain. In this circumstance, I want exactly what you get for cars: a full semester of education in every high school in the US. That's right. Drop the "gun free zone" BS and really get on board with safety and education. Every 17 year old gets 3 months of class room education on safe handling, operation, and storage. If they want to go further, hands on instruction will be required, followed by written and applied skills testing. Then you can renew every four years, and everyone else can shut up about it. And since the DMV proved that a government agency will never work as well as a private agency (The new MVC), a nationally recognized firearms training and safety organization will run the training and license renewal for this new system. I'll give you three guesses which organization I'm talking about, and here's a clue: they don't have the words "Moms," "Brady," or "Mayors" in their name!
Let's take the cars analogy all the way. Every car in the country has a muffler. It cuts down on unnecessary noise pollution. Too much noise damages your hearing, so it's a safety issue. Right? Good. Sound suppressors can go on every firearm for the same reason. No more NFA transfers, no more $200 tax stamp for suppressors. It only makes sense.
The FBI reports that in the US there are approximately 80-100 million existing firearms owners and 7 million new firearms owners in the last year. That's 7 million people who never owned a firearm before and now are learning the ropes. If you are one of them, I strongly encourage you to get properly educated by a professional instructor in the safe storage and use of your firearm.
So let's cut the nonsense. I know guns and cars aren't the same. I know the issues aren't the same. But I believe that there is truly one solution: Education!