The 1994 Federal Assault Weapons Ban (AWB) sucked. It limited magazine capacity, banned popular firearms, and was an all around lousy piece of legislation that had no effect on reducing crime. (That was supposedly its purpose, after all.) Thankfully, that nightmare ended for most Americans when the ban sunsetted in 2004.
...Unless you live in New Jersey...
Our NJ friends know that there was a NJ AWB in effect prior to the federal AWB, and it has no sunset clause. NJ residents are still arbitrarily limited to 15 round magazines. (I can only imagine the writers of the bill assumed that cutting the standard AR15 30 round magazine in half would result in a crime free utopia. It didn't. NJ has some of the highest violent crime rates in the country, but I digress.) It's only in the last few years that 15 round magazines have become commercially available, and many of those are "permanently modified" full capacity mags- which cost far more than their unmodified counterparts.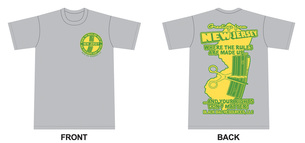 Most recently, NJ politicians are trying to expand the ban and further reduce magazine capacities to just 10 rounds. (It is my opinion that we should be repealing the entire NJ AWB, NOT expanding it.) Under the guise of "Public Safety" and hiding behind the Newtown tragedy, these politicians are again making arbitrary decisions that will turn NJ gun owners, who have already jumped through hoops to stay within this insane law, into overnight felons with the stroke of a pen.
To celebrate the stupidity (or malice) of these elected officials, as well as our business's escape to PA, Black Bag Resources is releasing the "FUNJ" Mag Limits shirt. Emblazoned with the Garden State Parkway colors, the artwork pokes fun at the arbitrary and useless magazine capacity limits.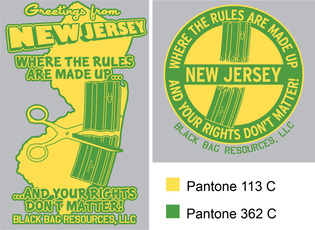 The art on the back depicts a postcard style Garden State with an AR15 magazine being cut in half with a pair of scissors and the text "Greetings from New Jersey, Where the rules are made up... ...And your rights don't matter!" The small front art is a parody of the Garden State Parkway logo with another halved magazine and the text, "New Jersey, where the rules are made up and your rights don't matter."
Now available for pre-order at the Black Bag Resources web store!