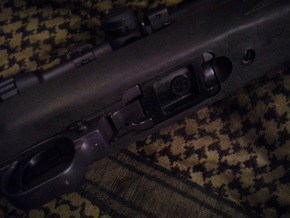 Before: The original magazine release on a 1960's production 10/22.
There's no arguing the joys of owning the Ruger 10/22. Chances are you learned to shoot with one, own one, or know someone who owns one. There's also a good chance that after a day of shooting you've had a pain in your thumb from using the original magazine release. The original release works well enough with factory magazines, but longer high capacity (no more than 15 rounds for NJ residents) or aftermarket mags can be difficult to change. Changing mags with the original release is also a slow, deliberate process not well suited to certain environments and situations. The solution to all these issues is an extended magazine release. Extended magazine releases have been around for a while, and they are so popular that, on certain models, Ruger started installing them at the factory a few years back.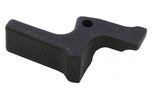 ProMag Extended Release
If you have an older 10/22 with the original release, you can easily upgrade to the extended version in 5 minutes with a few tools. You'll need a flat head screw driver, a
good set of punches
, and the
extended magazine release
. We used one from ProMag because it's long, metal, and reasonably priced.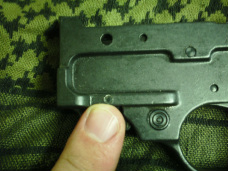 This pins holds the release in place.
Perform your safety check, and disassemble the rifle as you would for normal cleaning. Once you've removed the trigger group, use a 3/32 punch to tap out the pin holding the magazine release in place. This will require more force than removing the take down pins but should not be difficult. Next, press the magazine latch (also called the magazine plunger) and pull down on the magazine release to remove it. Take note of the release's direction. Before installing the extended release, test fit the pin to make sure there are no burs that will prevent easy installation. Press the magazine latch and slide the extended release into place. Use your 3/32 punch to make sure the parts all line up, and tap the pin back into position. Check to make sure the release moves and resets well, and reassemble the rifle.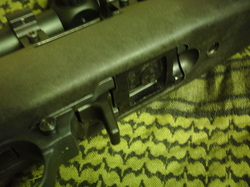 After: The ProMag Extended Release installed.
Once installed, you will notice the extended magazine release is similar to "paddle" type releases like those found on the M14, M1A, Mini 14 and 30, various HK's and clones, and AK variants. Pushing the paddle forward releases the mag, and it can be done quickly with a fresh mag in the same hand to facilitate faster reloads. It works equally well for left and right handed users, and allows the magazine to drop free from the rifle. Most importantly, you can save your sore thumbs for loading all those magazines!