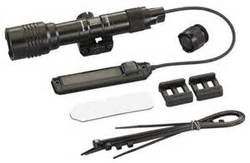 Being hailed as the "SureFire Killer," the new Streamlight ProTac Rail Mount 2 is Streamlight's attempt to bring to market an inexpensive alternative to SureFire's weapon mounted lights that can deliver similar features. The Rail Mount 2 is, as it's name suggests, a rail mounted weapon light that features 625 lumens from a C4 LED on it's highest setting. Double clicking the tail switch or included remote switch from the "off" position will activate strobe mode. The light can be activated momentarily as well, similar to other lights in this class. Utilizing Steamlight's "Ten Tap" programming, users may set the light to High Only, Low/High intensity, or High/Strobe. The Rail Mount 2 is powered by 2 CR123 Lithium batteries, again, common to lights of this type, and mounts via a knurled thumb knob which is also cut so it may be tightened with a large screw driver or coin. The Streamlight ProTac Rail Mount 2 is surprisingly light at only 5 ounces with the batteries included in the package.
I was thoroughly impressed by the light for its price. I was also pleased to find that Streamlight includes all the necessary accessories with the light- batteries, remote switch, rail mount clips for the remote switch, and zip ties and double sided tape to make sure it all stays put. The light is certainly bright enough to cast out to 300 yards, but the low setting allows for indoor use without "washout" or "whiteout" from excessive brightness. It comes factory set at High/Strobe, but I suspect Law Enforcement users will prefer the Low/High option for indoor/outdoor use to avoid the issues I just mentioned. I will admit that I am partial to Streamlight products over Surefire, partly because of the lower price point and partly because I've seen several Surefire lights fail during classes. I can't justify the price for a light that isn't any more reliable. I would prefer the option to use a rechargeable battery, but Streamlight advises only using standard Lithium batteries in the Rail Mount 2.
Overall, the Streamlight ProTac Rail Mount 2 is a solid light. I currently have one mounted on a demo rifle for customers to check out and fondle. Be sure to ask about it the next time you find BBR at a trade show or event and see for yourself.
Streamlight's product info sheet can be found
here
.
Order the Streamlight ProTac Rail Mount 2 from Black Bag Resources
here
.