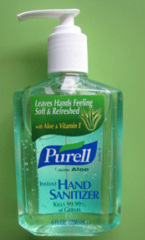 Let's face it. Hand sanitizers have become ubiquitous. This stuff is kept everywhere: the desk at work, the doctor's office, schools, purses, etc. I've even noticed dispensers mounted in public places like parks. Hopefully, we all have cleaner hands and spread fewer germs because of it, but one must be cautious if children are using it. Hand sanitizer is basically a jellied alcohol. Some manufacturers add sweet smelling fragrances and children may be inclined to lick it off their fingers. There have been several cases documented of children getting sick- basically intoxicated- so make sure they rub thoroughly and leave no residue.

On the rare occasion you accidentally get permanent marker on a hard surface, quickly apply some hand sanitizer and rub vigorously. I've removed several mistakes this way.

In an emergency or even just camping, there is another use for hand sanitizer. It is flammable because of its high alcohol content. Ethyl Alcohol is the primary anti-microbial ingredient and many brands also include Isopropyl Alcohol.

On a COLD camping trip several years ago, I was having a hard time getting the fire started and my wife suggested we use the sanitizer as an accelerant to help get it started. (She's clever that way- like MacGyver!) It only took a small amount (a drop the size of a dime) to get the kindling started and we soon had a good fire going. Since then, we've experimented with several types of hand sanitizers for this purpose. The brand doesn't seem to matter much, but we avoid anything with lotions or fragrances because they don't seem to light as easily. Depending on the contents, it burns either clear or light blue so be careful that you don't burn yourself on an invisible flame. I most often use hand sanitizer to help homemade "fire starters" catch a spark from a ferrocerium rod. A small drop is usually enough to get it burning nicely.

Use caution if you use hand sanitizer both for cleaning hands and starting your fire. Make sure there is no residue left on your hands that could cause you to get burned.