The new 2015 BBR T-shirts are coming soon! We're using new, lighter materials to provide more "performance based" shirts. Customers told us they wanted better wicking and moisture control than our 100% cotton shirts were providing. They're still tagless for comfort, and there will be more designs coming later. Here are the first two: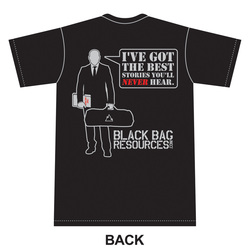 The new 2015 BBR Shirts are coming soon! This year's 2015 "Bagman" shirt pays homage to the Silent Professional. Whether he's the CIA field agent, the executive protection specialist, or the contract intelligence officer, he knows that loose lips sink ships. He's seen it all, and he could tell you stories. But he won't!
Our classic bag man is carrying Top Secret documents and telling you everything you need to know- absolutely nothing!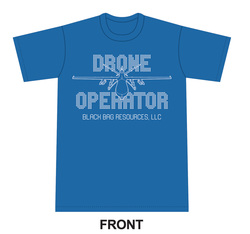 This year's 2015 Drone Operator shirt pays tribute to the unsung heroes behind the controls of one of our nation's most controversial pieces of equipment. With a semi humorous approach to a very serious line of work, the 2015 BBR Drone Operator shirt features a combination of arcade video game and movie poster styling sure to impress any critic.
Inspired by classic "invader" video games and 80's era pilot movies, the Drone Operator shirt is perfect for UAV hobbyists too!
Order either of these awesome new shirts from the
Black Bag Resources online store
! You'll also be the first to see them at ION 2015 at Skirmish. Both shirts are on sale now, and every BBR shirt is a limited production run. Once they're gone, they're gone for good!