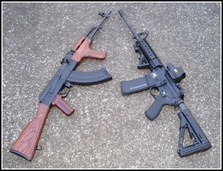 Please read the following article in a full-blown screaming rage voice...
I am so sick and tired of this argument, I can't even explain. It hurts my head every time I see another Youtube video, blog post, or Facebook discussion dedicated to "finally ending the debate" as to which of these two firearms is better.
STOP IT!
Here's the bottom line: There is a reason BOTH of these rifles still exist! There is a reason both of these guns are sold by the millions worldwide!
Stop arguing the "combat effectiveness" of either of these rifles! Any AK sold in the US has been modified to be 922R compliant- it is no longer genuine surplus! Stop arguing that the AR has "been proven" by the US Military- they don't use semi-autos! (I see you in the back- you go ahead and tell me the Air Force does. Then go choke yourself!)
Here is the only single true fact in this entire debate- Whether you choose an AR or whether you choose an AK, YOU ARE DOING IT BASED SOLELY ON YOUR OPINION!!!
And you know what? That's OK. It's ok to have an opinion based on nothing more than your preference. So do us all a favor and just admit that you like one better and that's why you chose it. Because, so help me, the next time I see this debate I am posting a link to this article!