This week's blog post is a submission which comes from our good friend, supporter, and contributing writer, Mr. Matt Bell.


A Rifle In Every Home

This is an article on just what the title says, why Americans should have a rifle in their home and my humble suggestions for what they should be.

A well regulated Militia, being necessary to the security of a free State, the right of the people to keep and bear Arms, shall not be infringed.
~Amendment II to the United States Constitution

Let me explain exactly what this amendment to the Constitution means. This does not guarantee our ability to hunt, or to participate in shooting sports. This was penned in order provide a restraint on our newly formed Government, a restraint on the formation of tyranny. Our founders had personal experience with tyranny and (it is my belief) wanted to prevent such a thing from ever occurring to the system of Government that was newly established. Our founders sought to guarantee the ability of the Citizens to dismantle the government if need be.

"A free people ought not only to be armed and disciplined, but they should have sufficient arms and ammunition to maintain a status of independence from any who might attempt to abuse them, which would include their own government."
~George Washington

The right to bear arms was not given to us by our government: the right to bear arms for the protection of one's life, liberty, and property is a rule of nature's law not man's.

"Any single man must judge for himself whether circumstances warrant obedience or resistance to the commands of the civil magistrate; we are all qualified, entitled, and morally obliged to evaluate the conduct of our rulers. This political judgment, moreover, is not simply or primarily a right, but like self-preservation, a duty to God. As such it is a judgment that men cannot part with according to the God of Nature. It is the first and foremost of our inalienable rights without which we can preserve no other."
~John Locke

Thankfully the founders were wise enough to put in place a system of Government for our Republic to hopefully never have to see this outcome as a legitimate possibility. And while they did not agree with each other on a vast amount of issues (as much as today) on this they agreed, that over time, even our form of Government could easily wander down the path to tyranny. And the loss of individual liberty could be perpetrated by those elected to lead.

"Since the general civilization of mankind, I believe there are more instances of the abridgment of the freedom of the people by gradual and silent encroachments of those in power than by violent and sudden usurpation"
~James Madison

Given the current charged political landscape regarding firearm control due to the recent Aurora CO theater shooting, and the renewed outcries for the Government to come along with the ban stick in relation to firearms, I wanted to write an article based on what this (should) mean(s) to all Americans. And to that end, select a few firearms that I feel should be in every American household.

"To prohibit a citizen from wearing or carrying a war arm . . . is an unwarranted restriction upon the constitutional right to keep and bear arms. If cowardly and dishonorable men sometimes shoot unarmed men with army pistols or guns, the evil must be prevented by the penitentiary and gallows, and not by a general deprivation of constitutional privilege."
~Wilson v. State

First: Why do I feel that there should be a firearm in every household? I will not begin to bore you all with useless statistics that can simply be altered to prove the viewpoint of the individuals involved. Protection from Government, and protection of self. These two ideals are quite unpopular at the moment, if you believe everything that is 'reported' by the various news agencies.

Regarding protection from Government let me say; I feel that at no other time in recent memory has there been more of an air of popular "statist" views prevalent in these United States. The Idea that the Government will protect and keep safe its population is rampant and a far cry from an individual's responsibility for one's own safety. The thought of individual responsibility has slowly been eroded away. The reasoning for this is a subject for much debate and postulating. The result is that collectively we have forgotten the individual's will to succeed- as well as valuing and protecting what has been earned through blood, sweat, tears, and sacrifice.

Regarding Protection of self; I feel that the law enforcement community is unable to protect us from criminal intent. They, for the most part, work at prevention, prosecution, and punishment of criminal actions. As such a firearm in every household should be necessary, to prevent criminal action on the basis of not presenting an easy target.

"The world is filled with violence. Because criminals carry guns, we decent law-abiding citizens should also have guns. Otherwise they will win and the decent people will lose."
~James Earl Jones

When we are talking about the American Rifleman, we are referring to a long and storied history that is largely forgotten and fading fast. We are a country founded on our ability to shoot. Given that we are currently living in an increasingly hostile society, it is imperative in my mind that every citizen be able to properly operate a firearm safely and proficiently, thus the reasoning behind my argument for a rifle in every home.

"By calling attention to 'a well regulated militia,' 'the security of the nation,' and the right of each citizen 'to keep and bear arms,' our founding fathers recognized the essentially civilian nature of our economy… The Second Amendment still remains an important declaration of our basic civilian-military relationships in which every citizen must be ready to participate in the defense of his country. For that reason I believe the Second Amendment will always be important."
~John F. Kennedy

Among firearms owners there is currently a large discrepancy in the amount of firearms per capita versus the amount of individually owned firearms. If you are a 'gun nut' then you are going to have more firearms than the average citizen. This article is not intended solely for the 'gun nut' it is intended for the average citizen. This is not designed to be an end all be all to the best firearms that have ever been created- on the contrary, my two choices are neither new nor fancy nor even the most accurate gun(s) ever created. They are not (currently) intended to be a frontline, go-to-war weapon. Yet, both of these rifles have the ability to be pressed into such duty.

That being said I humbly submit the two rifles that I feel every American should own.

Mosin-Nagant 1891
Allow me to introduce the Mosin-Nagant (1891)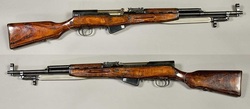 SKS (Russian)
And the SKS (1945)






These two weapons are largely considered strictly Russian firearms. However, this is not the case. These two weapons have been manufactured across the world- including the United States in the case of the Mosin (Remington Arms produced 750,000 of these rifles).

Statistics

Mosin-Nagant:

Cartridge - 7.62×54mmR
Action - Bolt-action
Muzzle velocity - Light ball, ~ 865 m/s (2,838 ft/s)
Effective range - 500 m (550 yards), 800+ m (with optics)
Feed system - 5-round non-detachable magazine, loaded individually or with five-round stripper clips.
Sights Rear: ladder, graduated from 100 m to 2,000 m

SKS:

Cartridge - 7.62×39mm
Action - Short stroke gas piston, tilting bolt, self-loading
Rate of fire - Semi-automatic
Muzzle velocity - 735 m/s (2,411 ft/s)
Effective range - 500 m (550 yd)
Feed system - 10 round stripper clip-fed or individual round loading.
Sights Hooded post front sight, tangent notch rear sight graduated from 100 to 1,000 meters

I would like to expound on the reasoning for my two choices. I am sure that there are those out there already dismissing my notions for these to 'antiquated firearms'. There are 4 pillars here that I feel hold up this argument and apply to both the weapon itself and the ammunition, for one without the other is useless. They are Availability, Capacity, Cost, and Ease of use.

Availability:

Both the Mosin-Nagant and the SKS have been so widely produced they are not difficult to find.
The Mosin-Nagant had approximately 37,000,000 produced between 1891 and 1965.
The SKS has been produced in numbers upward of 19,000,000 between 1949 and 1971.
As such these rifles are readily available on the surplus market and grace the shelves of most gun stores you may browse.



Capacity:

The Mosin-Nagant has a round capacity of 5 rounds.
The SKS has a capacity of 10 rounds (with larger aftermarkets magazines available).
While these rifles do not have the latest and greatest magazine capacity, remember this article is about the rifles that should be in the average American home.
Remember detachable magazines are a consumable and do need to be replaced eventually. They do not last forever and without them, a detachable magazine fed weapon will be about as useful as a tree branch fashioned into a club.



Cost:

Currently the Mosin-Nagant can be picked up for around $99.00.
The SKS can be picked up for $300.00. Compared to a modern battle rifle with detachable magazines this is a minimal investment.
Ammunition is also affordable being able to be picked in surplus lots.
7.62x54r can be obtained for an average of 19¢ -20¢ per round.
7.62x39 can be obtained at 23¢ - 28¢ per round.
In comparison the standard AR type ammunition the .223, 5.56x45 NATO, and .223 Wylde ammunition costs an average of 42¢ - 51¢ per round.
30 caliber .308 ammunition will cost you between $1.00 - $1.45 per round.

Overall, the two rifles I have chosen here will work for the budget minded individual, in initial cost as well as upkeep and feeding costs.

Ease of use:

The Mosin-Nagant is a bolt action rifle that has a five round capacity as these can be loaded individually or with practice the use of stripper clips. While this method is not as fast as swapping a detachable magazine, it is worthy to note that sufficient speed can be maintained reloading this rifle with practice.

The SKS is a Semi-Automatic rifle that is also fed via three methods. Ammunition can be loaded individually with the bolt in the open position, via 10 round stripper clips (also in the bolt open position), or by opening the magazine and loading from underneath in a bolt closed position. By far the stripper clip method is the fastest method with practice.

Once used and a comfort level is achieved, both rifles are easy to use and dare I say fun to operate.

I hope that this article has been informative and perhaps even a bit useful.

Regards,

Matt

"The tank, the B-52, the fighter-bomber, the state-controlled police and military are the weapons of dictatorship. The rifle is the weapon of democracy. If guns are outlawed, only the government will have guns. Only the police, the secret police, the military. The hired servants of our rulers. Only the government-and a few outlaws. I intend to be among the outlaws."
~Edward Abbey