Cleaning and maintenance are critical to the proper function of your firearm. It doesn't matter if you're a recreational shooter or a professional who counts on a weapon to defend lives, you need to service that equipment. There are tons of products available to clean and care for your firearm. Here are some of my favorites:
(Click on the photos for more info!)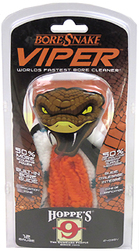 Hoppe's Boresnake or Viper:
These are the fastest way I've found to clean the bore of a rifle, shotgun, or pistol. They are caliber specific, so make sure you get the right size. To keep them in service after several uses, I wash mine with dish soap and let them air dry completely.


Break Free CLP:
The CLP stands for "Clean, Lubricate, Protect" which is exactly what the product does. It covers all three needs with one product and is safe to use on all finishes including: stainless steel, parkerized, blued, chrome, etc. (Available at WalMart)


Otis Technologies Cleaning Kits:
Simply the best field expedient cleaning kits available, Otis has several models to suit your needs. For overall versatility, I recommend the FG-750 Tactical Cleaning System. Most kits now include an orange chamber flag. It's made of acrylic so it can also direct light into the bore.


Otis Cleaning Patches:
There are lots of patches out there, but I like these for use with or without an Otis kit. If the 3" patch is too big, just cut it down.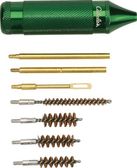 Cabela's Pistol Cleaning Kit:
It's a handy set of rods and brushes that store in the handle. There's no excuse for going without one in the range bag. (Cabela's exclusive)


TAPCO Chamber Flags:
In addition to being a chamber flag, it works as a pin pusher. It also has a small, flat blade for adjusting scopes. I have several and they always prove handy. Available for rifle, pistol (also fits .22 rifles), and shotgun models.


Wheeler Hammer and Punch set:
The set includes various brass, steel, and plastic punches as well as a small hammer. This set is ideal for working on firearms of all types, and will make your next project easier.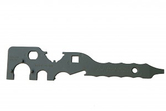 TAPCO Intrafuse AR Armorer's Tool:
TAPCO's version of the AR combo wrench is the best one I've found, and it's handy for working on all your long guns, not just your AR.


TAPCO Handguard Removal Tool:
This one is AR specific, but it makes short work of removing your handguards. Once you use it, you'll wonder why they don't include on with the rifle.