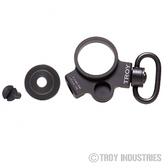 Here in NJ, civilians generally don't have collapsible stocks on their AR-type rifles. Because of New Jersey's "assault weapons ban," shooters must not exceed a certain number of features to maintain compliance with the law: conspicuous pistol grip, flash hider, bayonet lug, detachable magazine, collapsible stock, etc. Most of us keep the pistol grip and the detachable magazine. It doesn't seem like a big deal until you try to run a single point sling- there's no proper place to mount a sling swivel on a fixed stock. TROY Industries has an interesting solution. The M16A4 Sling Mount Adapter comes with the adapter, a quick release swivel, buffer tube spacer, and a buffer tube/stock screw.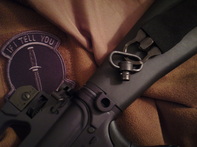 Installation: Simply remove the top screw from your fixed stock and slide the stock off. Slide the adapter over the buffer tube all the way to the receiver, being careful not to damage the small detent spring. Place the included buffer tube spacer on the end of the buffer tube with the original spacer- don't remove the old one. Slide the stock back into place and use the new screw to secure it in position. Tighten the screw fully, and you're done!
You now have ambidextrous sling mounts directly behind the receiver, perfect for utilizing a single point sling. Larger shooters will be pleased to note that the adapter adds about 1/4 inch to the length of the stock.